Ski school at the Fichtelberg
You can rent the right equipment for your course from us.
No long distances, directly from the rental to the practice area.
Learn safely and in peace in our own practice area with children's lift and magic carpet.
COURSE OFFER
Small groups for kids from 6 to 12 years, daily mornings and afternoons
Whether practice area or slope, here beginners and returners learn together, daily in the morning and in the afternoon.
Individual attention for every skill level. The most effective way to learn or improve the sport.
Realization of the courses by Ski School Fichtelberg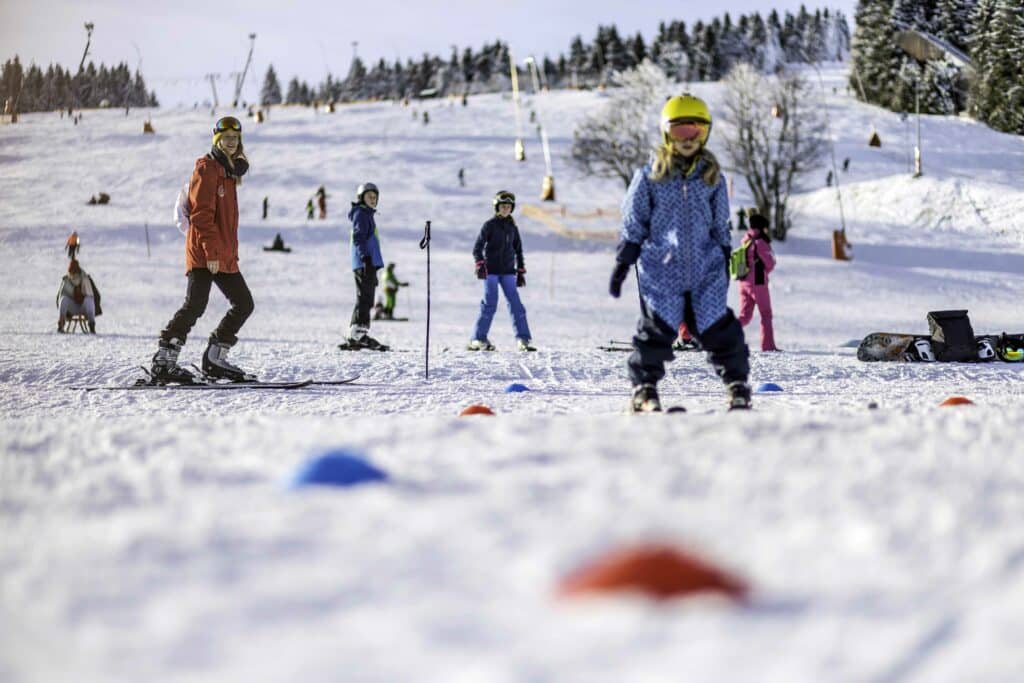 STARTHAUS and Ski School Fichtelberg are looking forward to a wonderful day on the slopes with you!
Two partners, one goal!
Our goal is to make skiing as pleasant as possible for you. For this, the STARTHAUS offers the ideal starting point. As a ski rental directly at the ski slope and our partner, the ski school Fichtelberg with its own ski area, you get the ideal cooperation in one.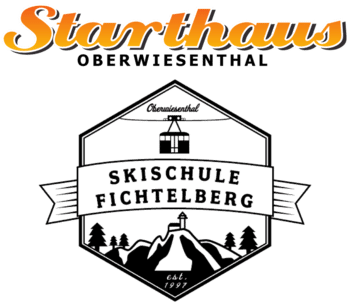 The ski school Fichtelberg would like to teach you skiing, snowboarding or cross-country skiing with success and without stress. Everyone is welcome here, whether big or small, beginner or advanced. Depending on your preferences, you can participate in the group courses or take individual private lessons.
Find your skill level
The skill levels allow you to properly assess your ability. We can thus optimally schedule you into the lessons and enable you to achieve the best possible learning experience and result. When booking your course, please indicate the skill level that corresponds to your skiing ability.
I am starting my career as a skier and have no previous experience
I can put on and take off my skis myself
I can dose my speed via the plow (sliding plow) and stop with the plow (stop plow)
I can get up by myself if I fall down
I can change the direction in the plow position (plow curves)
I have speed control on the plow curves
I can do the stop swing over the plow arc in either direction
I can finish my turns in parallel ski positions
I can combine transversal runs in parallel ski position and plow turns fluently
I can stop with the stop swing in both directions in any situation
I can ride a lift
I can ski easy and intermediate slopes in a predominantly parallel ski position
Riding a lift is no longer a challenge for me
I can deliberately vary between small, medium and large curves
I can ski medium difficult (red) and difficult slopes (black) in mainly parallel ski position
I can consciously adapt my pace to all conditions
I can control my speed on black runs via the deliberate choice of curve size
Course info and prices
Children's courses*
for ski and snowboard
from 6 to 12 years
Course times: 10:00 a.m. to 12:00 p.m. and 1:30 p.m. to 3:30 p.m.
Day course starts 10:00
Course start possible daily
Prices in Euro incl. VAT.
1day
2day
3day
4day
+day
Morning course
Afternoon course
34,-
34,-
60,-
60,-
80,-
80,-
90,-
90,-
20,-
20,-
| | | | | |
| --- | --- | --- | --- | --- |
| Prices in Euro incl. VAT. | 1day | 2day | 3day | +day |
| Daily rate | 60,- | 90,- | 130,- | 40,- |
Group courses*
for ski and snowboard
Adults from 13 years
Course times: 10:00 a.m. to 12:00 p.m. and 1:30 p.m. to 3:30 p.m.
Day course starts 10:00
Course start possible daily
Prices in Euro incl. VAT.
1day
2day
3day
4day
+day
Morning course
Afternoon course

34,-
34,-
60,-
60,-
80,-
80,-
90,-
90,-
20,-
20,-
| | | | | |
| --- | --- | --- | --- | --- |
| Prices in Euro incl. VAT. | 1day | 2day | 3day | +day |
| Daily rate | 60,- | 90,- | 130,- | 40,- |
Private courses
Private lessons for ski, snowboard and cross country skiing
Course times possible by arrangement and availability – vacation period from 9:00 to 10:00 and 15:30 to 16:30
Beginners start in the practice area, advanced on the slopes
Price per hour: 60 Euro
+1 person: 75 Euro
Price double hour: 110 Euro
+1 person: 130 Euro
---
The group size is 4 to a maximum of 8 people. Especially during the vacation season this cannot be 100% guaranteed. With fewer participants, the course unit will be shortened accordingly.
** It is expressly pointed out that the contract offer of the ski school is exclusively provided by the Ski School Fichtelberg, Vierenstraße 14, 09484 Oberwiesenthal. In this respect, a service contract exists between the customer and the Ski School Fichtelberg, Vierenstraße 14, 09484 Oberwiesenthal. The sole proprietorship Starthaus, Vierenstraße 8, 09484 Oberwiesenthal is insofar active as their representative. Terms and Conditions Ski School Fichtelberg